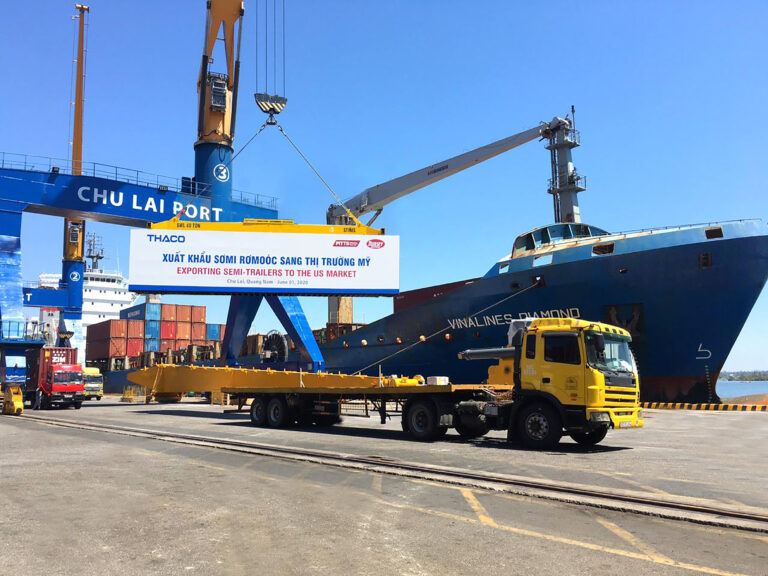 The US market is one of the most challenging ones in the world with strict standards on product quality but THACO has managed to enter, thus joining deeper into global value chains.
THACO had researched the market then signed a memorandum of understanding (MOU) on cooperation in manufacturing and distributing semi-trailers with PITTS Enterprises – one of the 15 largest manufacturers of semi-trailers in North America possessing history of more than 100 years. The 36 semi-trailers are the first batch of the 69 ones made by THACO to be shipped to the US through PITTS Enterprises. The American company will continue to cooperate with THACO in R&D, design and manufacturing new products to meet consumer demands and expand the market. 
THACO's semi-trailers for the US market include 20 feet slider semi-trailers, 40-feet gooseneck semi-trailers, 40/45-feet extendable semi-trailers. THACO SV ha thoroughly researched the market in order work out suitable products meeting the US quality standards and needs. They are  equipped with advanced features such as the Anti-lock Braking System (ABS) to help the vehicles operate safely; Tire Inflation System (PSI) to keep the pressure stable during operation, increase tire life; and warning LEDs to help detect air leaks or tire tank problem. Also, the semi-trailers are equipped with Stemco Hubodometer to help keep track of the journey, making them convenient for warranty and maintenance. In particular, they also meet US transportation standards such as DOT, AAR, ANSI, TOFC, FMVSS, SAE, TTMA.
Thanks to high quality and superior performance, THACO's semi-trailers have been exported to various markets including such as Colombia, South Korea and the US. THACO plans this year to hand over to PITTS Enterprises in June another 33 semi-trailers signed, and to further perform deals agreed upon. The Vietnamese multi-business group will also increase export volumes to Japan, Australia, and ASEAN markets.